Nepal is on the brink of a humanitarian crisis, with the worst COVID-19 viral transmission rate in the world.
Nepal now has among the highest viral reproduction rates in the world. In some regions as many as 90% of tests are returning positive. The Health Ministry has predicted that by July 15 new case numbers could reach 800,000 people – resulting in ten critically ill patients for each available ICU bed. Hospitals are already overwhelmed and soon patients will start dying for lack of basic resources such as oxygen. Nepal has less than 600 ventilators and 1,500 ICU beds to serve a population of 30 million people. These resources are already overwhelmed by the crisis.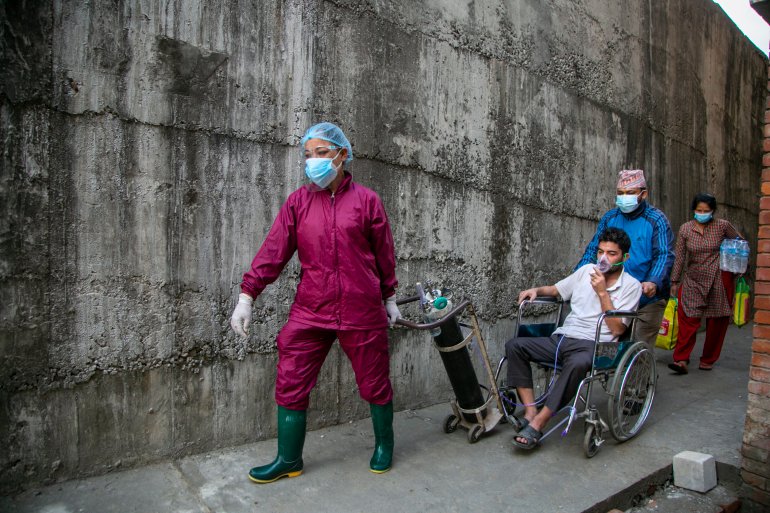 HAPSA activities during COVID-19 wave in Nepal
During the second wave in Nepal, HAPSA Nepal has been active on multiple fronts. HAPSA Nepal has created a database of volunteer nurses and doctors that are accessible to local governments and isolation centers. HAPSA Nepal has also partnered with other local and international organizations to conduct countrywide training in COVID -19 clinical concepts. HAPSA Nepal team has also helped create home isolation kits. As part of COVID Alliance Nepal, HAPSA have been directly involved in advising government entities in creation of protocols/blueprint for isolation centers, and treatment protocols for patients.
Nepal needs help from multiple fronts, and HAPSA Nepal will focus on keeping as many people home as possible to lower the strain in the already collapsed Nepali health system. 80% of COVID-19 patients can be taken care of at home. For now, it seems that the only way Nepal can handle the burden of this pandemic is with home isolation. Currently, Nepal has less than 2000 ICU beds, and less than 700 Ventilators. We need as many people to stay home as possible.
What does HAPSA need funding for?
As a pilot initiative, HAPSA Nepal along with COVID Alliance Nepal worked in building a home isolation kit for the municipality of Dhangadhi (one the the most hard hit areas in Nepal). Given its utility, we want to expand the kit's use across the country.
The home isolation kit will have following items:
Surgical Masks, Pulse Oximeter, Thermometer, Soap, hand sanitizer, Medications (Vitamin D, Zinc, Vitamin C, Paracetamol, Cough Syrup), Home Isolation and Quarantine detailed instructions, and Emergency phone numbers.
The estimated cost for each kit is Rs. 2000, or $20. Our fundraising goal is $40,000 for the home isolation kits.